UFF Services include the following:


World-wide Air & Sea Freight
Door to Door Services - Worldwide
Packing, Removals and Shifting (Office, Household items)
Industrial Packing
Customs clearance
LCL / Groupage - Consolidation
Break Bulk Cargo
Land Transportation (Local and GCC countries)
Warehousing - Closed and open storage yard
Hire of transport & heavy equipments
Air & Sea charter operation
Project shipments - Heavy, long, large, outsized goods


Our clients profile include several multinational institutions of various business sectors. Besides regular airfreight/seafreight, customs clearance and transportation, we have been handling heavy/abnormal/overdimensional cargo, errection and skidding of heavy machineries and project movement. We are also specialized in chartering cargo aircrafts & ships. We proudly uphold our outstanding performances in all the jobs that have been entrusted to us by our exteemed clients(details available on request). We display top level professionalism, giving paramount importance to offering the finest blend between high quality work and on-time delivery, and thus have the best offer for your esteemed organization.

We have formal arrangements with individually selected Freight Forwarders throughout the world who have been chosen because of their excellent infrastructures and superior service levels. UFF operates with Air & Sea consolidation services in all the major cities of globe. We deliver services that fully comply with all agreed upon customer requirements. This is achieved through adequate training, planning and control over processes (Management and physical process).



Transportation and Handling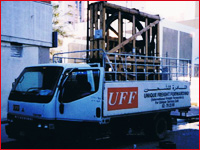 The size of our transportation fleet and range of our transport services enable the right goods to reach right place on time - always, irrespective of the package and the nature of goods. Transportation and door delivery of both part and full loads including abnormal / overdimentional cargo.

Planning and controlling transport including intermediate storage - backed by a competent staff with high level of expertise. Material handling - a wide range of material handling and lifting equipment including cranes, forklifts etc... enable a quicker turnaround and consistency in deadlines. Manpower supply - we are able to supply competent and well trained staff including supervisors, foreman, riggers to handle equipment leased by us like cranes, forklifts... etc.
Warehousing & Distribution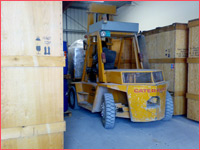 UFF has very large warehousing facilities (both closed and Open Storage yard) which are fully equipped to handle the complete storage and distribution needs of trade and industry. Also providing Third Party Logistics (3PL) service.


Cargo Aircraft/Ship Chartering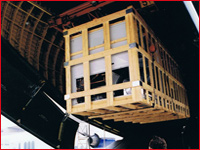 Cargo Aircraft: Air Charters at competitive rates, including overflying permissions and landing rights at difficult airports are arranged by us. We have chartered several aircrafts. One of them was AN 124, for transportation of Aircondition chillers.

Ship Chartering: We have used chartered ships to handle several emergency exports/bulk cargo.


Project Shipping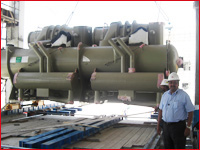 We have handled several Project shipment such as for power substations, shifting of district cooling plants, skidding of heavy machineries onto foundations etc. and we are awarded with a recognition/appreciation from one of the departments of government of Dubai for the excellent work done by us (details available on request).


Packing & Removals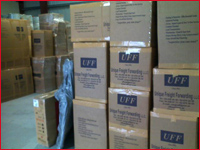 We have an export department with higly experienced and professional packing and removal team to handle all kinds of household, office shifting and industrial packing.


---


Home | About Us | Services | Benefits | Photogallery | Enquiry | Contact Us | Disclaimer

Copyright ® 2009 - 2011, All Rights Reserved. UFF - Dubai